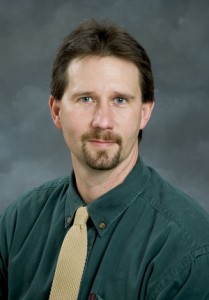 Andrew J. Walters
Instructor
311D Walker Engineering Building
Mississippi State, MS 39762
Phone: 662.325.3634
Email: walters@ae.msstate.edu
Andy Walters received his B.S. (Aerospace Engineering) from Mississippi State University in 1988, his M.S. (Mathematics) from Mississippi State University in 1996, and joined the Aerospace Engineering faculty in 2001. Prior to joining MSU, he worked for 1 year as a systems engineer on the space station program, 5 years in the Structural Strength Branch at NASA-Marshall Flight Center, and he was also an instructor at East Mississippi Community College for 5 years, teaching math and physics.
Teaching Areas
Engineering Mechanics
Structures
Taught Courses
Undergraduate Courses
ASE 3213 Mechanics of Deformable Structures
EM 2413 Engineering Mechanics I – Statics
EM 2433 Engineering Mechanics II – Dynamics
EM 3213 Mechanics of Materials
Select Journal Publications
Rais-Rohani, M., Walters, A., "Preliminary Assessment of the Emporium Model in a
Redesigned Engineering Mechanics Course", Advances in Engineering Education ASEE,
March 2014.
Select Conference Proceedings
Rais-Rohani, M., Walters, A., Vizzini, A., "Emporium Based Redesign of Statics: An Innovative Approach to Enhance Learning and Reduce Costs", 2010 ASEE Annual Conference, Louisville, KY, June 2010.
Walters, A., "An Innovative Approach to Teaching Statics Using the Emporium Model", Creating Futures Through Technology Conference (CFTTC), Biloxi, MS, March 2010.
Honors and Awards
NASA Certificate of Appreciation – 1991
NASA Group Achievement Award – 1992
Who's Who Among America's Teachers – 1998
Sigma Gamma Tau
MSU IMAGE/NSBE Certificate of Appreciation – 2008
MSU StatePride Faculty Award – 2011
Bagley College of Engineering Academy of Distinguished Teachers – 2014
Professional Memberships
American Society of Engineering Education (ASEE)
American Institute of Aeronautics and Astronautics ( AIAA ), senior member