Student-built robot powers through design competition
March 9, 2010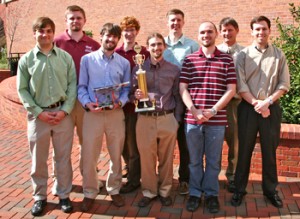 STARKVILLE, Miss. —A team of eight Bagley College of Engineering seniors earned its place in the sun with a third-place finish at a solar-powered robot competition.
The renewable energy-themed IEEE Southeastern region hardware competition took place in Charlotte, N.C. Each participating team was asked to create a self-navigating robot. Using no on-board stored energy sources, such as batteries, the machines had to maneuver through an obstacle course as many times as possible within three minutes.
Out of 42 registered teams, MSU's SPIDR—solar-powered intelligent driving robot—was only bested by the University of Western Kentucky and University of Florida's entries.
"I was proud of the team's hard work this year. The zero-energy problem was a tough one that none of our previous hardware teams had faced," explained Dr. Bob Reese, team adviser.
Since 2003 six MSU teams have finished in the top three of this annual IEEE competition. These previous challenges focused primarily on navigation and controls.
"We were surprised when we learned that this was a power challenge," said Ryan Wood, a senior in computer engineering. "It caused us to learn a lot about solar panels and problem solving."
The team was sponsored by the electrical and computer engineering department and SmartSynch of Jackson. In addition to competition success, the students earned classroom credit from this project as part of the capstone senior design course.
Six of the eight students plan to stay at MSU to complete master's degrees.
Team members by hometown:
AMROY—Electrical engineering senior Jacob Morgan, a 2005 graduate of Hatley High School and son of Wesley and Julia Morgan of Aberdeen.
BELDEN—Senior computer engineering major Jacob Bowen, a 2005 graduate of Morro Bay High School in California. He is the son of Greg Bowen of Belden and Kathy Fiene of Santa Fe, Tenn.
BYRAM—Computer engineering senior Ryan Wood, a 2005 graduate of Hillcrest Christian School and the son of Dwain and Cindy Wood of Byram.
GULFPORT—William Cleveland, a senior double majoring in aerospace and computer engineering and 2005 graduate of the Mississippi School for Math and Science. He is the son of Peter and Faye Carole Cleveland of Gulfport.
HORN LAKE—Senior computer engineering major Brad Reaves, a 2006 Horn Lake High School graduate. He is the son of David and Angela Reaves of Dyersburg, Tenn., and Dale and Gary Morris of Jonesboro, Ark.
LUCEDALE—Senior computer engineering major Tim Pitts, a 2006 George County High School graduate and son of Greg and Nancy Pitts of Lucedale.
RAYVILLE, La. —Computer engineering senior Austin Lee, a 2005 graduate of Riverfield Academy. He is the son of Hayes and Kathy Lee of Pineville, La.
SOUTHAVEN—Gary Weasel, a senior in computer engineering and a 2005 graduate of Southaven High School. He is the son of Gary and Nancy Weasel of Las Vegas, Nev.
According to its Web site, IEEE, formerly the Institute of Electrical and Electronics Engineers, is the largest professional association advancing innovation and technological excellence for the benefit of humanity. The organization boasts more than 395,000 members in more than 160 countries.
For more information about the team visit www.ece.msstate.edu.
More information about the Bagley College of Engineering can be found at www.bagley.msstate.edu.