Eight students earn 'Hall of Fame' honors
April 14, 2010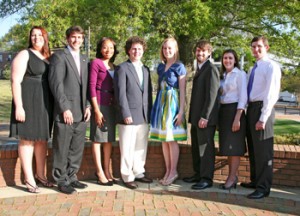 STARKVILLE, Miss—Eight Mississippi State seniors became the newest members of the Bagley College of Engineering's (BCoE) Student Hall of Fame at an April ceremony.
The 2010 class of inductees was chosen from nominations collected from BCoE faculty, staff and students. Each honoree was selected from that pool based on his or her academic accomplishments, engineering work experience, leadership, service, and character.
This year's honorees include (by hometown):
BRANDON –Cameron Blake Jeter is a senior biomedical engineering major. An active Student Association member, he has served as attorney general, director of campus outreach and most recently, president of the organization. In 2008 he earned the Spirit of State award, the university's premier student award, and he also has earned the BCoE's Harry C. Simrall Award for Engineering Excellence. He is a 2006 graduate of Northwest Rankin High School.
COLUMBUS –Martha "Missie" Smith is a senior industrial engineering major. Since 2007 she has been an active study abroad participant completing programs in Spain, South Korea and Australia. She worked as a co-op student at Eaton Aerospace in Jackson. She also serves as a mentor for the MSU Engineering Living and Learning Community and as an ambassador for the industrial and systems engineering department. Smith is a 2006 graduate of the Mississippi School for Math and Science.
GULFPORT—Senior civil engineering major Stephen Dix has been involved in many activities at MSU including the honor societies of Tau Beta Pi and Chi Epsilon. He has worked at ConocoPhillips, Knesal Engineering Services Inc. and Burner Dynamics Inc. He served MSU as president of the Bulldog Toastmasters Club and captain of the university's concrete canoe team. He graduated from Harrison County High School in 2006.
JACKSON –Chelsea Lindley is a senior biological engineering major. Since 2008, she has served as president of MSU's student chapter of the Institute of Biological Engineering and helped organize its 2009 student regional conference. She also is active as a student researcher. Off campus, she serves as a group leader for Starkville First United Methodist Church and has completed mission trips to Ghana and West Africa. She is a 2006 graduate of New Albany High School.
LUCEDALE. –Senior computer engineering major Tim Pitts serves as a mentor for the Engineering Living and Learning Community at MSU and president of the university's Entrepreneurship Club. He has completed an internship at Siemens Power Transmission and Distribution Inc. and was a member of a robotics team that recently placed third in regional competition. The Department of Defense awarded Pitts an Information Assurance scholarship. He graduated from George County High School in 2006.
STARKVILLE—Wade Spurlock, aerospace engineering, and Glenda Young, industrial engineering, are 2006 graduates of Starkville High School.
Spurlock has completed internships with Aurora Flight Sciences Corp. and NASA. He also has helped perform wind tunnel research, worked as a aerospace engineering teaching assistant and was a three year participant on the award winning "X-ipiter" Unmanned Aircraft Systems team.
Young began her involvement at MSU as a Summer Bridge Program participant. As president of Increasing Minority Access to Graduate Education (IMAGE), she helped lead a tutoring program for Project Blackfire participants. She is an active member of several organizations including the National Society of Black Engineers and the Institute of Industrial Engineers. She has participated in research through MSU's Human Systems Engineering Laboratory and completed an internship with Exxon Mobile Corp.
STURGIS – Jennifer Sloan is a civil engineering major. Her list of leadership activities includes serving as president of the Engineering Student Council, a BCoE ambassador and vice president of the Institute of Transportation Engineers. She also worked as a congressional intern in Washington, D.C. While in college, she has been a counselor for several engineering summer camps and a children's ministry mentor at New Horizons Christian Fellowship. She also works as a student researcher on environment related projects. She is a 2006 graduate of the Mississippi School for Math and Science.