Bagley College inducts new class into hall of fame
April 25, 2012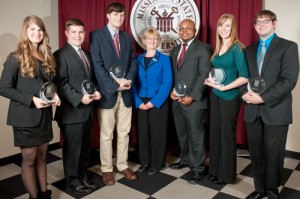 STARKVILLE, Miss. –Six academic and student-life leaders now hold membership in the Bagley College of Engineering's Student Hall of Fame.
Each year, faculty, staff and student organizations nominate students for hall of fame consideration. Inductees are chosen based on academics, leadership, work accomplishment, recommendation letters, and an interview with the selection committee.
The BCoE Student Hall of Fame was established in 2007 to recognize students who maintain excellent academic records while engaging in a variety of work experiences and student activities. The BCoE inducts between six and eight new members each spring semester.
This year's inductees include (by hometown):
COLLIERVILE, Tenn. – A senior in aerospace engineering, Michael Barton has spent his college career working to realize his goal of having a career in the space industry. He has completed an internship with NASA and through the cooperative education program, worked as a shuttle engineer with the United Space Alliance. This summer he will complete a space policy internship with the National Research Council's Space Studies Board in Washington, D.C. He is the first student in Mississippi to be selected for this honor.
On campus, Barton has been an active member of the engineering community. He has been involved with the Engineering Student Council since 2008, including serving a term as president. He also held leadership positions with Tau Beta Pi, the American Institute of Aeronautics and Astronautics, and Sigma Gamma Tau. He has also been part of the Baptist Student Union, the Shackouls Honors College, the Famous Maroon Band and Starkville School System as a volunteer mentor. A native of Collierville, Tenn., he is the son of John and Candy Barton.
HORN LAKE—Evan Howlett will earn his bachelor's in computer science in May after which he plans to study computer security in graduate school. Having successfully completed programming and entrepreneurship classes, he was selected as part of one of 20 faculty-students pairs to participate in Apple Inc.'s iOS App Developer Event at the company's headquarters. He has also worked with Information Technology Services on campus, as well as completing programming internships with ADTRAN Inc., Merck Consumer Care and Schering-Plough Healthcare Products.
He has held leadership positions with the Engineering Student Council and Tau Beta Pi, the engineering honor society. He has also been involved with the Association for Computing Machinery, IEEE, and the Phi Kappa Phi honor society. A native of Horn Lake, Miss., Howlett is the son of Harold and Terri Howlett.
MACON –With a resume that already boasts work experiences in California, Louisiana and Ohio, Phillip Jamison will earn his bachelor's degree in chemical engineering in May. He has also completed minors in business and economics, and is a candidate to receive an entrepreneurship certificate. He has been actively involved with Mississippi State's medical micro-device engineering research lab and is co-author of two publications and presentations.
Jamison has completed two terms as president of both the National Society of Black Engineers and the National Organization for the Professional Advancement of Black Chemist and Chemical Engineers, as well as being active in the recruitment and mentoring of minority students. He is a BCoE Mary Jasper Leadership Award recipient and a Swalm School of Chemical Engineering Scholar. A native of Macon, he is the son of Sherrie Jamison.
NORTH LITTLE ROCK, Ark. – A senior in chemical engineering, Mary Ann Murdock completed the MSU cooperative education program through her work with Ergon Refining Inc. in Vicksburg. During that time she developed a program that resulted in $300,000 cost savings. She has served as a MSU co-op ambassador and has been recognized as the university's Co-op Student of the Year.
She has held leadership positions with Alpha Lambda Delta, the American Institute of Chemical Engineers, and Tau Beta Pi. She is part of Mississippi State's honors college, as well as Phi Kappa Phi and Lambda Sigma honor societies. A native of North Little Rock, Ark., she is the daughter of Lisa and Andrew Ballard.
STARKVILLE – Having earned entrepreneurship and lean certification, Adam Collins will graduate in May with a degree in industrial engineering and minors in mathematics and psychology. He has been accepted into MSU's industrial engineering master's program. He worked as a co-op student with Mississippi State's Industrial Outreach Service, completing projects for several local manufacturers. He also served as a Six Sigma intern for the industrial and systems engineering department, and as a project engineer with Master-Bilt Products.
For the past year and a half he has worked with the BCoE's K-12 Outreach Office helping with summer camps, science fairs and the BEST Robotics Competition. He served as president of the Institute of Industrial Engineers and vice president of Alpha Pi Mu, while being an active member of Tau Beta Pi, the Aikido Club and earning entry into the Order of the Engineer. A native of Starkville, he is the son of Phillip and Kathy Collins.
STURGIS – After receiving a bachelor's degree in civil engineering in May, Katie Sloan plans to work for Neel-Schaffer Inc. before attending graduate school to study structural engineering. In her time at Mississippi State, she has been active in the American Society of Civil Engineers and the National Society of Collegiate Scholars, while holding leadership positions with the Engineering Student Council and the Theta Tau Professional Engineering Fraternity.
She has worked as an undergraduate research assistant within the civil and environmental engineering department and has interned with Neel-Schaffer Inc. She earned a national scholarship from the Solid Waste Association of North America and the Masonic Lodge of Mississippi Scholarship. In her free time she volunteers with the Hugh O'Bryan Youth Leadership Conference, Camp Seminole, Palmer Children's Home of Columbus, and Household Hazardous Waste Collection Day. A native of Sturgis, she is the daughter of Denise and Jimmy Sloan.
For more information about the Bagley College of Engineering and the Student Hall of Fame, visit www.bagley.msstate.edu.