MSU Xipiter earns top ten finish in international competition
July 1, 2012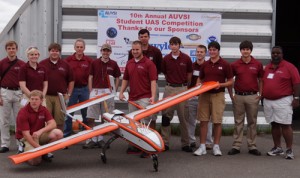 STARKVILLE, Miss. – Mississippi State University's unmanned aerial systems (UAS) team landed in the top ten at an international competition.
Team Xipiter finished tenth overall out of 26 teams that were able to fly during the two-day Association for Unmanned Vehicle Systems International's (AUVSI) student competition. The team finished sixth in flight and placed tenth in the journal paper and readiness review presentation.
For this year's competition, the teams had to design and build a UAS that could be piloted to an unattended ground station and connect to an antenna to retrieve a data transmission. The aircraft also needed to capture aerial images and relay the files back to the ground station for team members to identify specific targets.
"The most impressive thing for us was that we were able to fly exactly where we wanted despite the high wind," said team leader Jared Gates. "A lot of teams either weren't able to fly or actually crashed."
Gates credits the team's sturdy airframe construction for its ability to withstand the 20 mph winds, but those weren't the only difficulties the team faced. A glitch in a data connection on the first day of the competition forced the team into a timeout. However, the team was able to quickly identify the problem, fix the connection, and prepare for flight the following day.
Although the timeout cost the team valuable mission time and points, the new imaging capabilities of their aircraft, Xawk 5 SN 002, helped the team recover more easily.
"The biggest advance from last year's aircraft to this year's is our imagery subsystem," explained Jeff Morris, the team's head of surveillance. "We switched from recording aerial video to taking high resolution photographs."
Morris explained that with high resolution, wide-field-of-view images, the team was able to identify targets that might not have seen with the previous system, including a 2 feet by 1 foot target spotted in an image taken from 750 feet above ground level.
The leaders say the team is already looking forward to next year's competition and are actively looking for new members to add to its ranks. Between building the aircraft and its systems, there are places on the team for students all years and engineering majors.
Those interested in joining the team should visit, http://xipiter.org/interest/. More information about the team, including its history, can be found at www.xipiter.org.
Team members (by hometown):
AMORY—Joseph Brown, a sophomore in aerospace engineering
BRANDON—Rachel McFalls, a senior in aerospace engineering
CALEDONIA—Team leader Jared Gates, a senior aerospace engineering
CANTON—Cody Jennings, a sophomore in aerospace engineering
CARRIERE—Chance Crook, a sophomore in mechanical engineering
COLLIERVILLE, Tenn. —Airframe lead Tony Favaloro, a senior in aerospace engineering
COLORADO SPRINGS, Colo. —Jacob Bassett, a senior in electrical engineering
FRENCHTOWN, Mont. — Adam Rhodes, a sophomore in mechanical engineering
GRENADA—Leeanna Meadows, a sophomore in aerospace engineering
GULFPORT—Nick Jones, a sophomore in electrical engineering; and Jeffrey Morris, a junior computer science and team surveillance leader
JACKSON—Andrew Hammond, a junior in aerospace engineering
JONESBORO—Adam Mattes, a sophomore in aerospace engineering
KOSCIUSKO—David Cain, a freshman in aerospace engineering
LONG BEACH—Ryan Nazaretian, a senior in computer engineering
MCKINNEY, Texas —Avionics lead, William Delcambre, mechanical engineering
MEMPHIS—Ben Nesbit, a senior in aerospace engineering
NEW ORLEANS, La. —Eric Robertson, a senior in aerospace engineering
RANDOLPH—Alex Hoing, a sophomore in mechanical engineering
SAUCIER—Brett Fore, a junior in aerospace engineering
OCEAN SPRINGS—Austin Powell, a senior in aerospace engineering and Matthew Wilson, a senior in industrial engineering
STERLINGTON, La. —Team administrator Eric Hill, a senior in industrial engineering
SUWANEE, Ga. —Melanie Shumock, a junior in aerospace engineering