Mississippi State's Bagley College adds National Academy member to faculty
October 21, 2013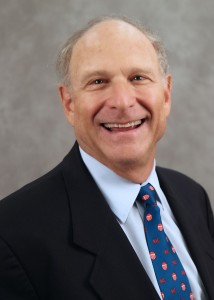 STARKVILLE, Miss. – A member of the National Academy of Engineering (NAE) has joined the faculty ranks in the Bagley College of Engineering.
Michael I. Baskes has recently been named a professor of aerospace engineering and special assistant to the dean.
"I am delighted that my first hire is our first NAE member at Mississippi State," said Dean Achille Messac. "Dr. Baskes joining us is an important component of our ascent to the top tier. His expertise in multifaceted areas of material science are already greatly benefiting our faculty and students."
In addition to his new roles at MSU, Baskes holds adjunct faculty status at the University of California, San Diego and the University of North Texas, Denton. He also retains associate status at Los Alamos National Laboratory, where he has been a staff member since 1999.
Baskes holds Fellow status with the national lab, as well as the Minerals, Metals and Materials Society, and the Institute of Physics. The rank of Fellow is the highest grade of membership available in many professional organizations. It is awarded to members who have made a significant impact to their respective fields.
In the scientific community, Baskes is widely known for three advances. He developed the Embedded Atom Method (EAM), a standard mode of calculation for complex applications in materials science. He created atomistic models to predict the behavior of helium in metals. Finally, he established a model to explain hydrogen isotope recombination, which is used by those working with fusion reactors.
Baskes has published more than 235 journal articles, book chapters and conference proceedings, which have been cited more than 15,000 times in other scientific works. A report on EAM ranks as his most cited work with 3,300 entries. Three others have 1,500 citations each. He is a member of the Department of Energy's Basic Energy Sciences Hall of Fame and has twice earned the division's award for sustained outstanding research.
An alumnus of the California Institute of Technology, Baskes completed an engineering bachelor's degree in 1965 and a doctorate in materials science five years later. He spent the first 30 years of his career at Sandia National Laboratories. He was elected to NAE in 2012 for his contributions to materials engineering, including his metal and alloy structures and property prediction methods.
Founded in 1964, the NAE is part of the National Academies, which include the National Academy of Science, the Institute of Medicine, and the National Research Council. It consists of more than 2,000 peer-elected members and foreign associates who hold careers in business, academia and government. Members are considered to be among the world's most accomplished engineers and are called upon for leadership in projects focused on the relationship between engineering, technology and quality of life.
For more information about the National Academy of Engineering, visit www.nae.edu.
More information about the Bagley College of Engineering can be found at www.bagley.msstate.edu.