Newman earns lifetime achievement, Fellow recognition from national organizations
January 23, 2013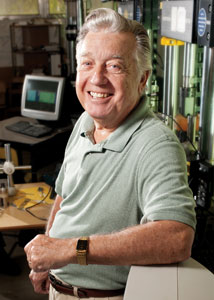 STARKVILLE, Miss. – Recognizing his work in fatigue and fracture research, two national organizations honor a Bagley College of Engineering professor's nearly 50-year career.
James C. Newman Jr., the Richard H. Johnson chair of aerospace engineering, received the Fatigue Damage of Structural Materials Lifetime Achievement Award at the 2012 International Conference on Fatigue Damage of Structural Materials in September.
In February, Newman will join Mississippi State colleague Mark F. Horstemeyer, mechanical, in being recognized as a Fellow of the American Association for the Advancement of Science Engineering Section at its annual meeting. This rank is the highest level of membership and is only awarded to those who have demonstrated a significant impact in their fields.
"I have enjoyed my career. Participating in these conferences and organizations I have enjoyed the lively technical discussions and seeing the interesting papers authored by fellow members," Newman said. "The discovery of new things is very exciting to me and I find that there are so many things still left to do that I will be busy for many years to come."
Newman began his storied career in 1964 with the mechanics and durability branch, structures and materials competency, at the NASA Langley Research Center. Over the next 37 years he earned many awards from the organizations including two medals for exceptional scientific achievement, four special achievement awards, 10 group achievement awards, a Superstar in Aeronautics Award, and a Silver Snoopy Award.
Since joining the Bagley College faculty in 2001, Newman has been the principal investigator of more that $3.6 million in research grants. His work focuses on fatigue and fracture mechanics of materials and aircraft structures, an area of specialization that seeks to improve the lifespan and overall safety and reliability of aircraft.
Newman also led the development of a fracture standard test method for a thin-sheet materials used in many structures, which was adopted by the American Society for Testing and Materials in 2006. That organization granted him Fellow status in 1986, five years after awarding him the George R. Irwin Award in Fracture Mechanics.
In 2010, Newman was named a Giles professor, the highest faculty honor at Mississippi State University. He earned master's and doctoral degrees in engineering mechanics from Virginia Tech and holds a bachelor's in civil engineering from the University of Mississippi.
This year marked the ninth semiannual international conference on fatigue damage of structural materials held In Hyannis, Mass. Newman received his award at the conference banquet. The announcement for his lifetime achievement selection noted his "invaluable contribution toward the research of fatigue in structural materials, a career dedicated to the fundamental understanding of fatigue mechanisms, and the development of mathematical techniques to predict fatigue performance."
Founded in 1848, the AAAS is an international organization dedicated to advancing the field by providing education and support to its members. With more than 3,200 members, engineering is one of the organization's 24 specialized sections. The AAAS Council selects Fellows from an international pool of nominees. More information can be found at www.aaas.org.
More information about the Bagley College of Engineering can be found at www.bagley.msstate.edu.