College toasts successful year at annual picnic
May 11, 2011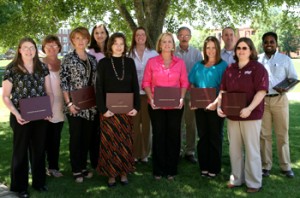 Starkville, Miss. — School's out and the Bagley College of Engineering's faculty and staff are celebrating the end another successful academic year.
On a sunny Wednesday afternoon, the college's faculty and staff turned out on MSU's historic Drill Field to enjoy barbecue, fried catfish and all of the trimmings while Dean Sarah Rajala provided an update about the status of the college.
"Despite the continuing economic challenges facing our state and the nation, the college has enjoyed another successful year," Rajala said. "We are now ranked 34th nationally for engineering research expenditures and the generous support of alumni and friends have provided numerous StatePride awards to support faculty and student development."
Rajala also remarked on the college's award winning faculty and staff noting that the college was well-represented at the university level earning four Outstanding Women Awards, a Zacharias Distinguished Staff Award and three Spirit of State honorees. Other university honorees include Mark Horstemeyer, mechanical, named a William L. Giles Distinguished Professor; Rita Burrell the 2011 staff Jefcoat Advising Award; and James Newman Jr., aerospace, the 2011 Ralph E. Powe Research Excellence Award—the highest research honor given at the university. At the national level, the college had two faculty members earn fellow status in their respective professional organizations.
After congratulating these award winners, Rajala also acknowledged the numerous reclassifications and promotions earned by BCoE faculty and staff this past year.
"It is always rewarding to see our people succeed and be recognized for their contributions to their fields and the university," Rajala said.
This year the college will have 60 faculty and staff recognized at the university's annual Years of Service ceremony, which honors employees for every five years they've been at MSU. The BCoE's 2011 honorees include 30-year Bulldogs John Luthe, Institute for Clean Energy Technology; Dennis Truax, civil and environmental engineering; and Ray Winton, electrical and computer engineering.
In closing, the dean presented this year's staff and student research awards and announced the expansion of the college's annual professional and support staff awards. In addition to one top award, the college was able to secure funding for six additional winners in each category.
In the research category, Matthew Doude, Center for Advanced Vehicular Systems, earned the BCoE's $1,000 professional support staff research award. Rajkumar Prabhu, agricultural and biological engineering, and David Lavallee, aerospace engineering, earned the graduate and undergraduate student research awards and $750 respectively.
Heather Rowe, publications manager in the BCoE's publications and communications office, earned the 2011 professional staff award and a $1,000 prize. Earning $750, the other professional staff award winners included: Courtney Blaylock, computer science and engineering accountant; Eric Heiselt, director of educational outreach and support programs; Dana Lewis, CAVS contracts and grants specialist; Carol Martin, Dean's Office business manager; Kendra Posovich, CAVS; and Sandra Reynolds, Dean's Office accountant.
The 2011 support staff award winner and recipient of a $1,000 prize was Brenda Grebner, administrative assistant in the BCoE Dean's Office. This category's other winners and recipients of $750 awards include: Carl Brown, industrial and systems engineering lab operations supervisor; Joe Coleson, computer science and engineering office associate; Barbara Matta, electrical and computer engineering project coordinator; Elizabeth Miller, aerospace engineering administrative assistant; Dee Newell, Dean's Office business coordinator; and Jodie Womack, civil and environmental engineering accounting assistant.
"It's important that our people realize how much their hard work is appreciated and how it contributes to our continued success," Rajala explained. "We are proud of what we have accomplished this year and look forward to improving on that success in the year to come."