Veteran educator to head MSU aerospace department
July 5, 2011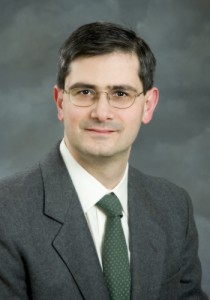 STARKVILLE, Miss. – A professor with more than 20 years of experience as an educator will become the Bagley College of Engineering's Bill and Carolyn Cobb chair and head of the department of aerospace engineering.
Pasquale "PC" Cinnella formally assumed his new role July 1 after serving as the interim leader for two years. He replaces Anthony Vizzini who in 2009 became dean of Western Michigan University's College of Engineering and Applied Science.
"I am very excited to have Dr. Pasquale Cinnella serving as our next head of the department of aerospace engineering," said Dean Sarah Rajala. "Dr. Cinnella brings enormous passion for aerospace engineering education and research, and I am confident that under his leadership the department will continue to achieve greatness. "
A native of southern Italy, Cinnella holds a bachelor's degree in mechanical engineering from the University of Bari, Italy and a doctoral degree in aerospace engineering from the Virginia Polytechnic Institute and State University.
He came to Mississippi State in 1990 as an assistant professor of aerospace engineering. After six years he was named associate professor and ultimately earned full professorship in 2003. Prior to coming to State, Cinnella served as a research associate in the department of aerospace and ocean engineering at Virginia Tech.
His research interests include computational fluid dynamics, thermodynamics and engineering mechanics among others. His work has been published in numerous academic publications including those produced by the American Institute of Aeronautics and Astronautics.
"Being chosen for this leadership position is an exciting and extremely rewarding experience," Cinnella said. "I have been part of the MSU extended family for a very long time, and have been exposed to the charm and vitality of this institution, with the Bagley College at its forefront. We have been pushing the boundaries of new knowledge in engineering and applied sciences, while ensuring excellence in our educational mission. Our best days are always ahead of us!"
The National Science Foundation ranks MSU's department of aerospace engineering 10th in research expenditures among similar departments at public universities nationwide. With 16 faculty members, the department currently enrolls approximately 250 students in its bachelor's, master's and doctoral degrees programs.
Composed of eight academic departments, the Bagley College of Engineering is Mississippi State's third largest college. It currently ranks 34th among all engineering colleges nationally in research and development expenditures according to the National Science Foundation.
For more information about the aerospace engineering department, visit www.ae.msstate.edu. More information about the BCoE can be found at www.bagley.msstate.edu.