Mississippi State engineering names new distinguished fellows
March 9, 2012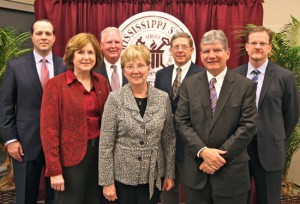 STARKVILLE, Miss.– Ten alumni from the Bagley College of Engineering at Mississippi State University are being honored for their professional accomplishments and personal commitments to engineering and their alma mater.
The newest class of Distinguished Fellows was honored during a Thursday night [March 8] ceremony on the university's Starkville campus.
"Each year we look forward to our Distinguished Fellows event because it not only gives us a chance to show appreciation for our alumni, but it also helps remind our engineering family of how much our graduates can accomplish with their engineering or computer science degrees," said Dean Sarah Rajala.
The 2012 Distinguished Fellows include:
GULFPORT—William C. "Bill" Mitchell of Gulfport holds a bachelor's degree in civil engineering and a master's in public policy and administration from Mississippi State University. For 21 years he was president of the engineering firm that is now Brown, Mitchell & Alexander Inc. He has served on the civil and environmental engineering advisory board and the MSU Foundation. He also serves as mentor and sponsor for the MSU chapter of Engineers Without Borders.
HERNDON, Va. — Mark Dumas is vice president of special projects at GeoEye Inc., which in 2010 acquired SPADAC, a company he founded and served as CEO. He is a native of Great Falls, Va., and earned a bachelor's degree in electrical engineering from Mississippi State.
HOUSTON, Texas — Mike Miller McDaniel is currently CEO of both Electrical Controller Products and Saber Power Systems. He graduated from MSU in 1979 with a bachelor's degree in mechanical engineering. He serves his alma mater on also on the advisory board of the mechanical engineering department the MSU Foundation board.
KINGWOOD, Texas — Timothy S. Duncan is currently the president and CEO of Talos Energy LLC. He graduated from Mississippi State University in 1995 with a bachelor's degree in petroleum engineering. He is an active member of the Society of Petroleum Engineers, IPAA and Houston Producers Forum. He also serves on various local advisory boards including the petroleum engineering program at the University of Houston and Just About Kids, a high school academic booster club.
LIVERMORE, Calif. — Ralph "Burt" Harrison is a 34 year veteran of Chevron Corp. He currently serves as drilling operations manager in charge of all drilling, completion and work over operation in the San Joaquin Valley. A native of Clarksdale, Miss., he earned earning chemical and petroleum engineering degrees from Mississippi State in 1978.
LONDON—Ernest Waaser, a native of Yazoo City, Miss., is chief executive officer and a member of the board of directors of Systagenix Wound Management, based in Gatwick, United Kingdom. He graduated from Mississippi State with a bachelor's degree in nuclear engineering.
MADISON—Judy Johnson of Madison, Miss., is the director of talent acquisition at Bomgar Corp., the worldwide leader in secure enterprise remote support solutions. She was recognized as one of the Top 50 Leading Business Women in Mississippi. A native of Drew, Miss., she earned a bachelor's degree in industrial engineering from Mississippi State.
NEW ORLEANS— Patrick Sean O'Sullivan is a board certified vitreoretinal surgeon. He serves as an assistant professor in the department of ophthalmology and director of ophthalmology medical students for the Louisiana State University Health Science Center. A native of Pascagoula, Miss., he earned a bachelor's degree in biological engineering from Mississippi State in 1988.
STARKVILLE— Philip and Susan Bridges of Starkville were both selected as Distinguished Fellows.
Philip is an emeritus associate professor of aerospace engineering and a research professor/pilot at the Raspet Flight Research Laboratory in the Bagley College of Engineering at Mississippi State University. He also worked in private industry for five years as a guidance and control engineer on the space shuttle and other aerospace programs. Bridges was selected as the outstanding educator in the BCoE in 1996, and he is a member of the advisory board for the department of aerospace engineering. A native of Paragould, Ark., he holds master's and doctoral degrees in aerospace engineering from MSU in 1976 and 1983 respectively.
Susan is professor emeritus of computer science and engineering at Mississippi State University. She currently works for the MSU Office of Research as science coordinator for a statewide research program supported by the National Science Foundation. She worked with MSU faculty members to establish the MSU Institute for Digital Biology and co-directed the institute for five years. She also established and directed the university's computation biology certificate program. She received the college's Faculty Research Award in 2003 and the Career Award in 2010. She earned a master's in computer science from Mississippi State University in 1983.
The annual Distinguished Fellows program was established in 1991 to coincide with the college's centennial observance. Alumni from each current engineering department and two historic degree programs are nominated and selected for the honor based on their achievements and contributions to their professions.
Composed of eight academic departments, the Bagley College of Engineering is Mississippi State's third largest college. It currently ranks 34th among all engineering colleges nationally in research and development expenditures according to the National Science Foundation. It currently enrolls more than 2560 undergraduate and 608 graduate students.
For more information about the college, visit www.bagley.msstate.edu.