Five engineering majors among Spirit of State honorees
April 2, 2012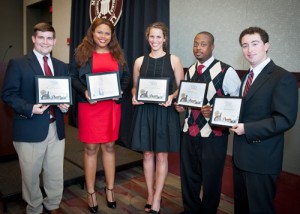 STARKVILLE, Miss. – Five Bagley College of Engineering (BCoE) students have been honored with Mississippi State's premier student award.
Michael Barton, Palara Grant, Emily Nations, Daniel Snyder, and Marlon Taylor were among 22 students from across the university who received Spirit of State Awards during a Super Bulldog Weekend ceremony.
Spirit of State Award winners are selected from a pool of students who are nominated by faculty, staff or fellow students in recognition of their contributions to the campus community.
The 2012 winners from the BCoE include (by hometown):
CLINTON – Her nominators describe Grant as a strong representative for both the university and her major. A senior in mechanical engineering, she has been active in Increasing Minority Access to Graduate Education, the National Society for Black Engineers, Society of Hispanic Professional Engineers, the MSU Roadrunners, and the Delta Sigma Theta community service sorority.
Grant says that she fell in love with the university from the time she received her first brochure and appreciates that she has had the opportunity to giveback to the Bulldog community. She recently received an MSU Outstanding Woman Award from the President's Commission on the Status of Women. A native of Clinton, she is the daughter of MaryAnn Grant and Reginal Grant.
Emily Nations, a senior in biological engineering, made her mark on Mississippi State as a distinguished scholar mentor and active member of the Student Association—-activities well served by what is described as her "outstanding intellect" and "engaging and outgoing personality."
Having worked with the Social Science Research Center to study the status of healthcare in Mississippi, Nations says that she plans to use her degree to help better medical care in the state. A native of Clinton, she is the daughter of Ricky and Mary Lea Nations.
COLLIERVILLE, Tenn. – A senior in aerospace engineering, Barton is described as a student who "embodies the Spirit of State" and "contributed to all three components of the mission—learning, research and service." He has been involved with the Engineering Student Council since 2008, including serving a term as president and being tasked with planning that year's E-Week activities. He says that this was one of the most rewarding experiences of his college career.
Barton also held leadership positions with Tau Beta Pi, the American Institute of Aeronautics and Astronautics, and Sigma Gamma Tau. He has also been part of the Baptist Student Union, the Shackouls Honors College, the Famous Maroon Band, and Starkville School System as a volunteer mentor. He was recently inducted into the BCoE's Student Hall of Fame. A native of Collierville, Tenn., he is the son of John and Candy Barton.
CRYSTAL SPRINGS – A native of Crystal Springs, Daniel Snyder is a junior in industrial and systems engineering. He is the founder and president of Hillel, an organization for Jewish students that recognizes their religious identity while providing social and service opportunities. One professor credits him with doing more for the
Mississippi State Jewish-community in one year than others have been able to do in their careers.
Snyder has served as president of the Institute of Industrial Engineers, and is a member of the Famous Maroon Band and Alpha Pi Mu, an industrial engineering honors fraternity. A native of Crystal Springs, he is the son of Dr. Richard and Susan Snyder.
GREENVILLE –Marlon Taylor has maintained "a smile on his face and an optimistic outlook for the future" while working to serve Mississippi State and the community as a student leader and mentor. He has severed as chair and co-chair of the Association for Computing Machinery, an organization that promotes computing professions, and has served on the leadership of Tau Beta Pi, the engineering honor society. He serves as a computer science ambassador, and is a member of Increasing Minority Access to Graduate Education, the National Society of Black Engineers and the Engineering Student Council. He also works as a mentor with the Starkville School District.
Currently enrolled as a graduate student in computer science, Taylor earned a bachelor's degree in the field in 2011. He has completed both engineering entrepreneurship and information security certificates, and is a graduate of the Mississippi State cooperative education program and the Montgomery Leadership Program. A native of Greenville, he is the son of Panella Taylor.
The Spirit of State award program was established in 2006 in order to formally honor students who excel in campus involvement, service and impact to their peers and the campus community.
More information about the college can be found at www.bagley.msstate.edu.