Aerospace senior selected for internship in Washington, D.C.
April 9, 2012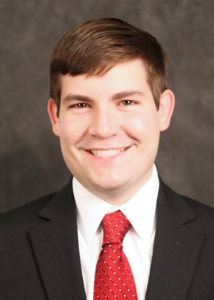 Starkville, Miss. – A Mississippi State University engineering student becomes the first student from the Magnolia State selected for a prestigious summer internship in the nation's capitol.
Michael Barton, a senior in aerospace engineering, has been selected from a nation-wide pool of applicants for a Lloyd V. Berkner Space Policy Internship with the National Research Council's Space Studies Board, an independent forum that advises companies and government agencies on space science.
He will spend 12 weeks in Washington, D.C. gaining experience in current space-policy issues.
"I am interested in pursuing space policy later in life, and I know this internship can confirm my interests," Barton explained. "It is considered one of the best internships to show students all stages of space policy studies and I am looking forward to getting to take part in the process."
This will be the Collierville, Tenn., native's third off-campus work experience. He previously worked three semesters as a cooperative education student with the United Space Alliance at the Kennedy Space Center and spent a summer as a research associate with the NASA Academy at the Glenn Research Center.
Since coming to Mississippi State, Barton has earned freshman, sophomore, junior, and senior of the year honors in the aerospace engineering department. The Mississippi Engineering Society recently named him Mississippi State Engineering Student of the Year. He has also been awarded a scholarship from Tau Beta Pi, the national engineering honor society, and the American Institute of Aeronautics and Astronautics (AIAA) Next Generation of Flight scholarship, one of only two given nationally.
Barton is part of Mississippi State's Shackouls Honors College and was a four-year member of the Famous Maroon Band. He has been active in the Engineering Student Council since 2008, including serving a term as president. He has also held leadership positions with Tau Beta Pi, AIAA, and the aerospace engineering honor society Sigma Gamma Tau. He is a volunteer mentor with the Starkville School System.
The Lloyd V. Berkner Space Policy Internship Program was established in 1992 to provide undergraduate and graduate students with the opportunity to work in civilian space research policy. Past interns include graduates of Ivy League and well-known research universities from around the country.
Space Studies Board was established in 1958. It is part of the National Research Council, the operating arm of the National Academy of Sciences and the National Academy of Engineering. For more information about the board, visit http://sites.nationalacademies.org/SSB/.
More information about the Bagley College of Engineering can be found at www.bagley.msstate.edu.