Distinguished alumni honored for their commitment to engineering and MSU
April 14, 2011
Ten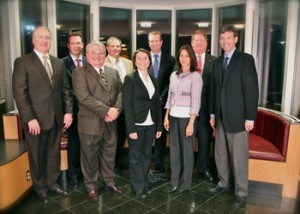 esteemed alumni of the James Worth Bagley College of Engineering at Mississippi State University were named distinguished engineering fellows during an awards ceremony earlier this spring. Recognized for their commitment and dedication to the engineering profession, these MSU graduates are part of a tradition of excellence within the college of engineering.
In 1991, the college named 100 fellows as part of its 100th anniversary celebration of engineering education at Mississippi State. The program continues to recognize new fellows each year.
"From their first day on campus to the day they receive their degrees, our engineering students excel in their personal and professional growth," said Sarah Rajala, dean of the college of engineering. "Over the course of their careers, we've been pleased and privileged to follow our alumni's successes and share them with the next generation of engineers."
Distinguished alumni honored during this year's award ceremony (listed by location) include:
AUBURN, Ala.—Samuel Miller Lawrence is the CEO of Aetos Technologies Inc., based in Auburn, Ala. He earned a bachelor's degree in aerospace engineering from Mississippi State University in 1986. He worked as an engineer on the Boeing Commercial Airplanes Aerodynamics staff until 1991 when he left to continue his education at the Northwestern University Kellogg Graduate School of Management. In addition to earning a master's degree in manufacturing management, he also completed the International Executive Programme at INSEAD (Fontainebleau, France/Singapore) in 2002. Lawrence grew up in Jackson, Miss., and currently lives in Auburn, with his wife, Terri, and their two children.
BOGOTÁ, Colombia—A 23-year veteran of the Venezuelan oil industry, Ronald Pantin Carvallo currently serves as CEO, executive director, and co-founder of Pacific Rubiales Energy Corp. He holds bachelor's degrees in petroleum engineering and management science from Mississippi State University and master's degrees in petroleum engineering and industrial engineering from Stanford University. He is a member of the board of directors for several international companies in the energy and mining sector. He is married to Cecilia Van Den Bussche and they have five children.
FRANKLIN, Tenn.— Dr. Allen K. Sills Jr. is an associate professor of neurosurgery and director of Neurosurgery Community Practice at the Vanderbilt University Medical Center. He graduated summa cum laude with a degree in biological engineering from Mississippi State in 1986. He received a medical degree from the Johns Hopkins University School of Medicine in 1990. During his time at Hopkins, Sills completed fellowship training in neuro-oncology and was awarded the Hunterian Award for neurosurgical research. In 2009, he was recruited to Vanderbilt University, where he specializes on brain tumors and sports neurosurgery. He is on the board of the National Comprehensive Cancer Network and and serves as neurosurgery consultant for all of the Mississippi State athletic teams. He is married to Shawne Sills, with whom he shares four children.
GULFPORT, Miss.—Ann Hairston graduated from Mississippi State in 1987 with a bachelor's degree in chemical engineering. She began her professional career at the Houston headquarters of the Shell Oil Co. She later relocated to the company's New Orleans facility, and married fellow MSU chemical engineer John Hairston. She is active in Mississippi coast philanthropic affairs, having served previously on the board of the American Heart Association and currently on the Gulfport American Heart Auxiliary Board. She currently serves as director of the Gulf Coast Community Foundation.
GULFPORT, Miss.—John M. Hairston is CEO and chief operating officer of Hancock Holding Co. and Hancock Bank. Earlier in his career, he specialized in financial services consulting with Andersen Consulting, now Accenture. He graduated magna cum laude from Mississippi State University with a degree in chemical engineering. Active in business, community, economic development, and educational initiatives throughout his native Mississippi, Hariston was a Mississippi delegate to Republican National Convention in 2004 and is a past fourth district representative for the Mississippi Republican Party executive committee. He is a past commissioner of the Mississippi Access to Justice Commission, appointed by former Mississippi Chief Justice Jim Smith.
INDIAN SPRINGS, Ala.—William Ball is responsible for the planning, design, construction, operation, and maintenance of Southern Company's transmission system. He is actively involved in electric utility industry policy matters, he currently serves on the eastern interconnection planning collaborative executive committee, and is chairman of the board of the North American Transmission Forum. A native of Columbia, Miss., he is a summa cum laude graduate of Mississippi State University with a bachelor's degree in electrical engineering. He also holds a master's in business administration from the University of Southern Mississippi. Ball also serves on the board of Briarwood Christian School and is a registered professional engineer in Mississippi.
MANCHESTER, Tenn.—After graduating from Mississippi State in 1941, Lt. Col. Alton C. Morris started his professional career with the Tennessee Valley Authority. However, in 1942 his career was interrupted when he joined the Army Air Corps as an aircraft maintenance officer. Two years later he was transferred to the 1864th Engineering Aviation Battalion. He was discharged from the military as a captain in 1946, but remained active in the Army Reserves, enabling him to reach the rank of lieutenant colonel. He restarted his civil service career by joining the Corps of Engineers in Vicksburg, and soon found work with the Air Force as a structural engineer. In 1950 he earned a position with the Arnold Engineering Development Center, which was in the early development stages. He was with the center for the last 23 years of his career. Now approaching his 92nd birthday he takes pride in many things including his: age, love of God and country, and church and community service.
NORTH AUGUSTA, S.C.—Richard Loftin is the nuclear systems supervisor at Southern Company's Plant Vogtle Units 1 and 2 in Waynesboro, Ga. His responsibilities include: reactor engineering, the reactors and auxiliaries, nuclear fuel accountability, spent fuel pools and pool cooling, refueling equipment, and waste processing systems. He is a member of the American Nuclear Society, the Nuclear Energy Institute's high level waste task force committee, and Electric Power Research Institute's (EPRI) high level waste committee. He has presented numerous papers at EPRI meetings, Westinghouse Fuel Users' Group meetings and International Nuclear Fuel Performance meetings. He is the recipient of a Westinghouse Customer Achievement Award. He earned a bachelor's degree in nuclear engineering from Mississippi State University in 1974.
NORTH OAKS, Minn.—Jerry Redmond is senior vice president of operations and supply chain management for Andersen Corp., located near the Twin Cities in Bayport, Minn. Prior to joining Andersen, Redmond worked for the Whirlpool Corp. in a variety of senior leadership roles including president, Whirlpool Mexico; general manager, Whirlpool Canada; and plant manager of the Oxford, Miss., division. His other interests include Habitat for Humanity, STEM community support, coaching youth sports, and all things associated with Mississippi State where he earned a bachelor's degree in industrial engineering in 1988. He earned a master's in business administration from Northwestern University in 2000. Originally from Moss Point, Miss., he currently resides in St. Paul, Minn. He has been married for 23 years to Donette (Wilson), an MSU alumnus from the school of accountancy, and they have three very active children.
SAN JOSE, Calif.—Sara S. Ford, who earned her bachelor's degree in computer science and mathematics from Mississippi State University, is the senior product and community manager for Black Duck Software's Ohloh.net, the largest public destination for finding and evaluating open source software. Prior to Black Duck, she worked for nine years at Microsoft Corp. She serves on the board of directors for the National Technical Honor Society and is working on her second book with Microsoft Press titled "Coding Faster: Getting More Productive with Microsoft Visual Studio". Additionally, she is training for a Seattle to Portland cycling event, which will help raise money for blood cancer research.
TUPELO, Miss.—Frank Kessler is the co-founder and vice president of Ewing Kessler Inc., a professional sales organization with locations in Memphis, Tenn.; Starkville, Miss.; Jackson, Miss.; and Gulfport, Miss. The company specializes in engineered systems and energy solutions for the commercial and industrial air-conditioning and heating markets. Kessler graduated from Mississippi State in 1998 with a bachelor's degree in mechanical engineering. He serves on multiple boards and design teams of various organizations, is a licensed contractor in three states, and holds a pilot's license. He is a native of Amory, Miss., and currently lives in Tupelo with his wife, Jennifer, a 1996 MSU graduate in elementary education. They have two children, 4-year-old Carson and 3-year-old Addison.
The Bagley College of Engineering, which carries the name of yet another distinguished graduate, enrolls more than 2,500 students in 10 different academic disciplines. More information about the college can be found at www.bagley.msstate.edu.